All of Chimp's books are now here in one place so that you can read a quick synopsis of each one. These books make great gifts!
---
Billy Howard & The Pinto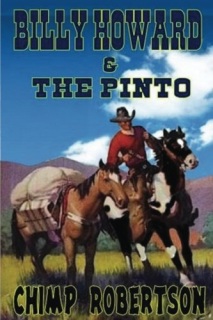 FOURTH AND FINAL BOOK OF THE BILLY HOWARD WESTERN SERIES

The saga continues. No real man would allow his young wife to been taken by bandits who kidnap women and girls and sell them to Mexico for slaves, or his beautiful Pinto Stallion to be stolen by horse thieves, and not strike back.

​Billy Howard promised himself he'd hunt down the Jeb Culver gang and kill every member who was responsible. And he vowed to take back his sweetheart and his Pinto Stallion from that gang of robbers, killers, and kidnappers…or die trying.

Their pretty valley ranch on the Salado River north of San Antonio meant nothing without Rachel. He oiled his Winchester and his Colt, saddled up, and headed deep into outlaw country one more time…one final time, as far as he was concerned.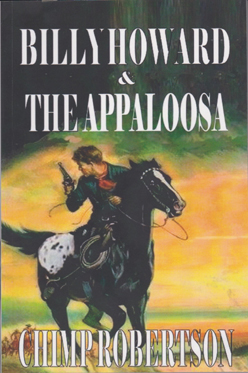 ​Billy Howard & The Appaloosa
Western series, Book 3

Young cowboy Billy Howard had faced outlaws before. He's already lost his prized buckskin and beautiful palamino to horse thieves, and now they'd taken his appaloosa stallion. To make matters worse, they also took his sweetheart. Rumor had it that they planned to kill him to get him off their trail, but it was a fight Billy looked forward to ... and one he did not intend to lose.

Your book will be personally autographed by the author!
---
---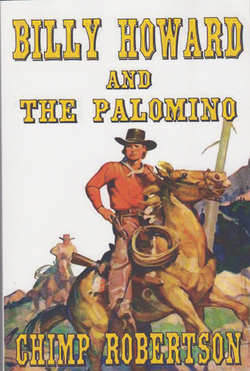 Billy Howard & The Palomino
Western series, Book 2

A tough young cowboy, a beautiful palomino horse, a few pretty girls ... and lots of horse thieves!

Young Billy Howard watched his parents being murdered, watched his dad's horses being stolen, and rode from Texas to Montana to Arizona in search of the killers. He finds romance along the way, and for him, love is as elusive as horse thieves. But he never gives up on either.

Your book will be personally signed by the Author!
---
---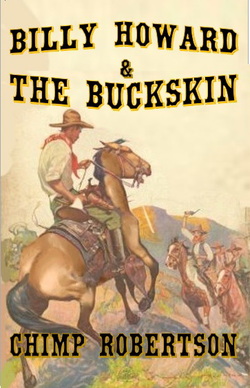 Billy Howard & The Buckskin
New Series, Book 1

Billy Howard & The Buckskin - Billy Howard helped drive a herd to Montana, but while heading back to Texas, his prized buckskin pulls up lame in a small Colorado town. Billy falls for rich rancher Don Carlo's beautiful daughter Nita, and she wants to go to Texas with him, but can't as long as her aging parents are alive.

​Billy eventually gets in a shoot-out and makes his escape, but he won't leave without Nita, not even with a $10,000 reward on his head! Now Nita must choose between cowboy Billy Howard and the "other" man, lawyer Enrique Gonzalez.

Your book will be personally signed by the Author!
---
---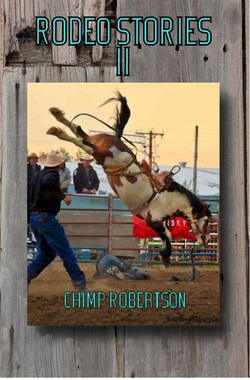 RODEO STORIES II
300 pages

RODEO STORIES II picks up where RODEO STORIES left off, continuing to satisfy the increasing interest in rodeo as a media attraction. People are ready to hear from cowboys and cowgirls 20-40 years AFTER they have competed in arenas around the country, and RODEO STORIES II capitalizes on that popularity.

These rodeo veterans' efforts are clearly seen because of the authority from which they stake their claim to tell their unique stories. They were there. Yes, they were the young sunburned faces inside old wooden chutes, and there was always laughter out back of the arena when the competition was over.

There was excitement, fun, and humor, as well as blood, sweat, and pain. RODEO STORIES II provides a voice from the hearts of cowboys and cowgirls who competed in those arenas. These are their stories in their own words.

This is not meant to be a finely tuned effort or heavily edited conversation. These cowboys and cowgirls tell their stories in starts and stops, spurts and hitches. Memories long stored away are brought to life and written down to be heard, many times for the very first time.

Here are some comments:

Denny Weir: Done ordered mine.
Joe Latona: Chimp, my wife is ordering it now. We'll order from your site so you can sign it to us.
Tim Boriskie: Congrats, Chimp.
Manshadow Waylett: Wow! Got it done already and what a glorious cover.
Mark Whitaker: Congratulations. Cannot wait for another go 'round. To all my FB friends, Chimp not only put another of my stories in his new book, he also put in a story of my best friends, Bret and Bob Corley.
Larry Brady: Congrats, Chimp. Send me one whenever you can. I'm ready.
Lori Shoulders: Anxious to get one.
Red Doyal: Bring your note pad to the Panhandle Cowboy Reunion in October because knowing the panhandle crew, you may get enough for Rodeo Stories III, all in one place.
Danny O'Haco: Ordered it today.
Bill Putnam: Congratulations, Chimp.
Dale Cox: Good Deal, Chimp. We'll be getting our copy real soon.
Susan Kenward: Excellent.

RODEO STORIES II has also been endorsed by 2011 Texas Rodeo Cowboy Hall of Fame National Finals Rodeo Announcer DON ENDSLEY: "This book is a very unique look into the world of rodeo through the years, and the people who have made it an everlasting part of America. The great stories are not always about the gold buckles, the championships, or the prize money. It's also the many stories told by the people on the road and behind the chutes, of happenings that are never seen by the public.

Cowboys and cowgirls and rodeo folks have a lifetime experience unlike any other persons, and they are shared here in the these pages, and for those of us who were lucky enough to be part of some of them, that's even better!"
---
---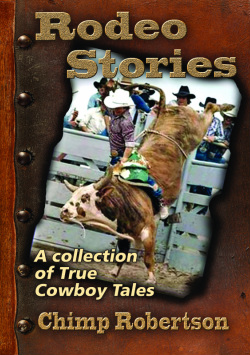 RODEO STORIES: A Collection of True Cowboy Tales336 pagesThe initial idea of compiling these stories was to give the reading public, as well as rodeo fans, an authentic record of the private lives of the rodeo cowboy. Surely there are few things that boost a man's pride more than winning one of the big rodeos in the country. It's so reassuring to know that he's marked high as top stock despite the many handicaps of being a rodeo cowboy, such as drawing bad, broken equipment, and working in all kinds of weather and arena conditions. In fact, drawing good and trying hard seem to be a preoccupation with most rodeo cowboys, and has since around July 4th, 1888, when America's own sport is thought to have had its beginning.It takes individual effort, attitude, determination, avoiding personal mistakes, or even all of these things combined to make that winning ride. Although life on the rodeo trail can be hard at times, it can also be fun. But rather than make sweeping generalizations, let's take a look at what some of best rodeo cowboys have to say on the subject.
In this book, you'll find an amazing 123 different rodeo stories - some wild, some serious, and some just plain fun and humorous - from some of the great cowboys like
Casey McGlaun, Jerry LaValley, Lyle Sankey, Jimmy Martin, Bill Putnam, Don Gay, Randy Taylor, Randy Nubbin Oliver, Micah Robertson, Rob Erickson, Dale Cox, Steve Scott, Charlie Burns, Blaine Koonce, Charlie Fore, Joe & Jay Foscalina, David Spiderman Mills, Abe Morris, Rod Sinclair, Barry Adams, Russ Baize, Smokey Brown, Randy Majers, Charlie Finely, Tom Stovall, Jimmy Cairnes, Andy Adams, Scooter Autry, Don Mellgren, Jeff Earp, Sean Baker, Cary Culbertson, Dewayne Jett, Eric Hewitt, Charlie Cook, Myles Culbertson, Ernie Roberts, Don Schmid, Duane Colbert, Charles Chuck Sasser, Charlie Bowden, Dave Sampsel, Richard Flechsig, Ricky Chavez, Cory Whitehead, Mark Dennis, Johnny E. Roberts, Mark Whitaker, Marlon Harris, Mick Roughan, Jerry LaFrance, T. J. Cypher, Scott Mendes, Tom Stovall, Nathan Tull, Kelly Butler, Mike Collins, Chimp Robertson, Joe Lifto, Ken Rigler, Kirk Allmon, Tom Peiser, Waco Boyd, Joe Leonard, Roger Langford, LaMar VanLandingham, Jimmy Blotz, Bo Porter, Jack Gibbs, Brad Beasoncon, Joey Dumas, Tom Ray, Allen & Duane Howard, Brad Rojo Ethridge, Bryan Robertson, Scot Fritts, Chris Gott, Robbie Havallena, & Read Barby.
Book Reviews and Comments:Stewart Autry:
I have read it. If you like old, crazy, fun, heartfelt, true tales of cowboys going down the road, giving up a lot of things to follow that dream, then you'll love this book.
Jimmy Blotz:
Great book. Sure takes me back to the old days.
Karen Brown Herman:
I am really enjoying the book.
It reminds me of my youth and brings back a lot of memories. Thanks, and God bless you.
Pepper Stewart:
Good stories.
Dee Clements:
Hey, Chimp. I gotta get this book.
Gwen Gilstrap Cox:
Really great stories.
Rex Williams:
Thank you again, for signing your book for me. I cannot tell you how happy it has made me. And, I wanted to say that I'm glad you took the time to get these stories recorded. The "R" rated version would be a hilarious read as well.
Tammy Williams:
Thank you, so much. I laughed, I cried, and I sat and smiled, at the memory of people this book brought back.
Red Doyal:
Thanks, Chimp. I'll keep in touch. If I can help you in any way, let me know.
Jesse CR Hall:
You deserve congratulations for the hard work you put into it, Chimp. Thanks for sharing it with us.
Joey Dumas:
Almost finished it last night. Great stories in it, by many good cowboys.
Joe Lifto:
Great job, Chimp. I finished mine.
Ravina Green:
This is the best book. Just got it and loved it.
Vi Logan:
I need this book. We're in Canada. How do I get it?
(Vi, go to my website
www.chimprobertson.com
for signed copies)
Bill Putnam:
This afternoon I received a signed copy of "RODEO STORIES." Congratulations on your book. I know it will be a tremendous hit. It's already a hit here.
Duane Colbert:
Great job, Chimp. And Bill, I feel the same way. It's already a hit with me.
Dwayne Jett:
I got mine, and the Saguache, Colorado Library is now in possession of RODEO STORIES by my friend, Chimp Robertson, who compiled many rodeo stories and put it together.
Great stories. Thanks for including a couple of mine.
Marty C. White:
Well, I got it in the mail and can't wait to start reading it. Thanks, Chimp, from Marty and Pam White.
Steve Scott:
I finished it.
Actually, I read every story twice.
Hard to put down.
Cheryl Holmlund Carson:
I've got to get this book.
Mark Dennis:
I ordered two copies for myself.
Nancy Dee Beard Ledbetter:
Got my copy in the mail today.
Can't wait.
John Hawkins:
Got your book and just finished it.
I can't tell you how much I enjoyed it.
It brought back many of my own memories.
Kaye Lovell McBride:
I loved your book.
I could hardly put it down.
Bo Porter:
Just ordered it, Chimp!
John Sumerlin:
Got your book,
Rodeo Stories
, and it sounded exactly like incidents my traveling partner and I had back in the day. It's a great book and I'm savoring it, by going at it slow.
Larry Brady:
Chimp, I got the wonderful book today, and it is just what you said! There were a lot of guys in it that I hadn't thought of in many years. I don't read as a general rule because it takes something real interesting to keep me occupied because of getting exposed to Sarin Gas in Desert Storm, but to your credit, for the first time in years, I sat down as soon as I got in from the mailbox and read the whole book without a break. Thanks again for taking me back in time. Oh, and I'm sending you some stories for
RODEO STORIES II.Bill Putnam:
This afternoon, I received a signed copy of "RODEO STORIES," authored by my good friend, Chimp Robertson. As I thumbed through the amazing collection for the first time, I came across a story that I had written. I feel very honored to be included alongside so many cowboys and friends whose stories are told here. I'm looking forward to reading them all. Thank you, Chimp, and all the best with your newest book. I know it will be a tremendous hit. It already is, here.
Larry Brady:
I'm not a reader per say, but I ordered a signed copy of RODEO STORIES and got it three days later and read it completely the same day. The stories are great and I still pick it up to refresh myself and remember the grand old days. Now ... it's on to RODEO STORIES II.
---
---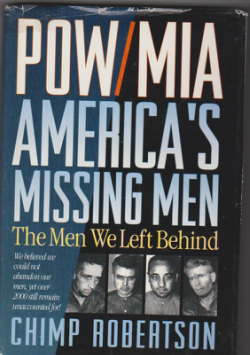 POW/MIA: America's Missing Men
216 pages - Available as E-book only

The men we left behind when we pulled out of Vietnam: Names scratched on prison walls. Rumors of last-known sightings. Dog tags turning up years later in Vietnamese military museums. American POW photos sent to their families by Vietnamese con men. More than 2000 men never returned from the Vietnam War. There is a reason to believe that some POWs and MIAs still cling to life amid the sordid conditions of prisoner of war camps in Southeast Asia.

Others trust that the U.S. Government would not intentionally leave POW/MIAs behind; there must be a glitch in the numbers. But, for the families of the men who went off to war in a faraway land and never returned, life is anything but normal. On an issue where confusion reigns, whatever your beliefs, some reports speak a terrible truth.

There have been many books written on Vietnam. Most of those books focused on a specific battle, a special heroic effort, or a certain member of the Armed Forces who went beyond the call of duty, but as sad as it is, the U.S. Government's most recent POW/MIA statistics list 2,266 still missing from the Vietnam War.
---
---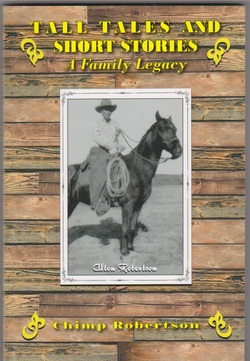 TALL TALES AND SHORT STORIES: A Family Legacy
184 pages
Life on the big Texas ranches in the 20's and 30's was hard. Long days in the saddle for weeks at a time caused many a young cowboy to look toward the horizon, in the direction of some small town where occasional Saturday Night dances were held. Bucking horses, runaway horses, wild horses, and lots of good horses, they learned the cowboy way, ride those bucking horses or draw your pay and hike back to town.

The lives of true cowboys are colored into this account of four generations of a family that lived, enjoyed, and overcame the hardships of working on the ranges of Texas, New Mexico, and Oklahoma. It is compiled for the appreciation of all who have been cowboys, or have ancestors whose lives were enriched by cowboy life. This book opens the corral gate, beckoning to the young ones who feel the calling to live in an honorable, hard-working, and determined commitment to life that few find nowadays. Enjoy the hardscrabble humor, sweat, and endurance of those who have preceded us in this great adventure of the American West.
---
---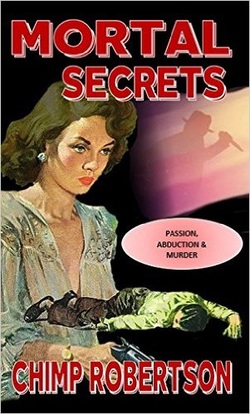 MORTAL SECRETS
216 pages

A novel of passion, deceit, and murder, all of which takes place on Primrose Drive in the Ashley Park Addition, a new development in New Bedford, Massachusetts, during a time when anticipation and excitement ran high, and when a few young couples' inspired zeal overrode many rational human concerns.

Amidst the chaos, the young women who attempted to solve the mystery ended up having their families torn apart, becoming involved in clashes and brutality that changed their lives forever.

---
---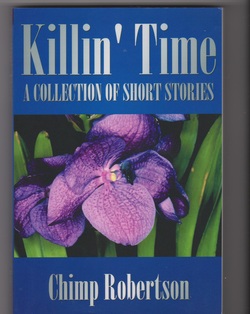 KILLIN' TIME: A Collection of Short Stories
332 pages

A collection of 38 short stories from people in various walks of life from the Old West and the military, both past and present. Stories are humorous, sad, and sometimes outlandish - which is what makes reading them so enjoyable!

---